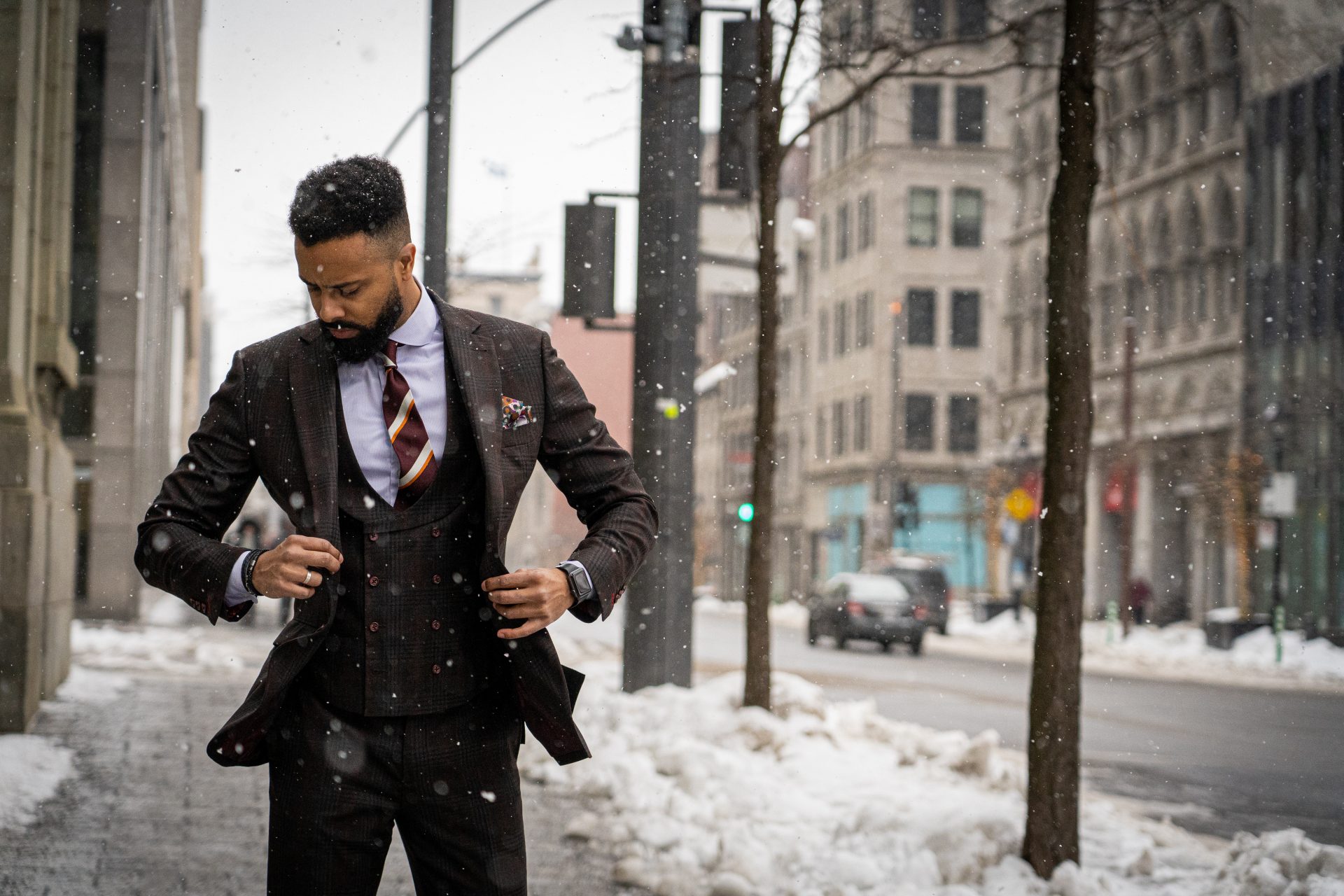 10 Best Holiday Suit Trends for Men
There is something a bit magical about the Holiday season, it's a time of gathering and celebration, where we take a moment to process the year that's gone by, and welcome the new one. A lot of us want to put our best selves forward during this festive time, and that means looking our best as well. For this reason we have compiled the 10 best Holiday trends for men in 2021.
Textured Materials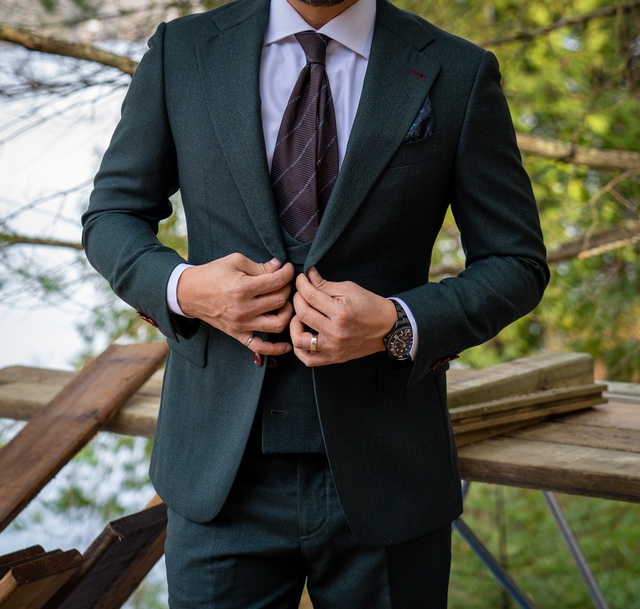 From thick twills and woollens, to tweed and corduroy, textures are all in. They add visual interest to any fabric, and thus any outfit, and enhance character. Take, for instance, two fabrics of the same blue—one is a tightly woven broadcloth, the other a wooly chambray—not only will the appearance of these two fabrics differ greatly, but so will what they evoke. In essence, what texture does for an outfit is create depth, which can really elevate your look.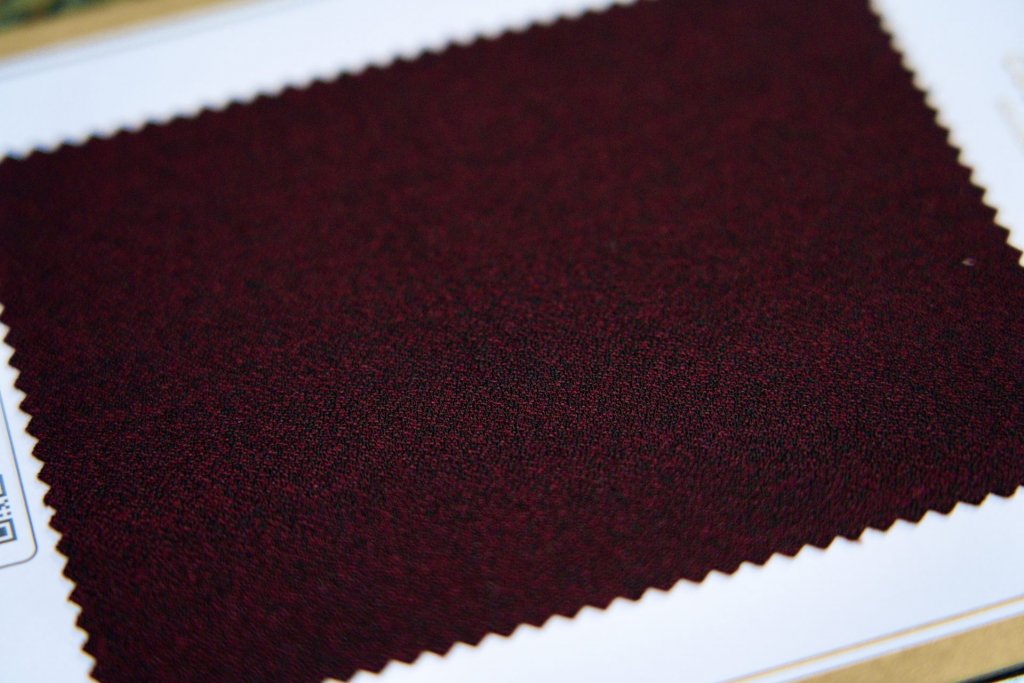 As far a suiting goes, you can use textures in several ways. If you want a more proper or even preppy style, opting for a clean thick twill in a solid colour could be ideal, as would a tweed, or a pairing of both. A thick twill suit in a dark shade of navy blue, paired with a burgundy tweed vest could look particularly good at an office Christmas party, for example.
If you're aiming for a more rustic look, thick woollens, chambray, and rib weaves are great. Wear a two-piece suit in any of these fabrics to a Holiday brunch on the countryside, and you're sure to look your best, without being overdressed. In addition, a notch lapel jacket in any of these fabrics, worn with a pair of corduroy pants could be the perfect attire for a festive family gathering.
Tonal Layering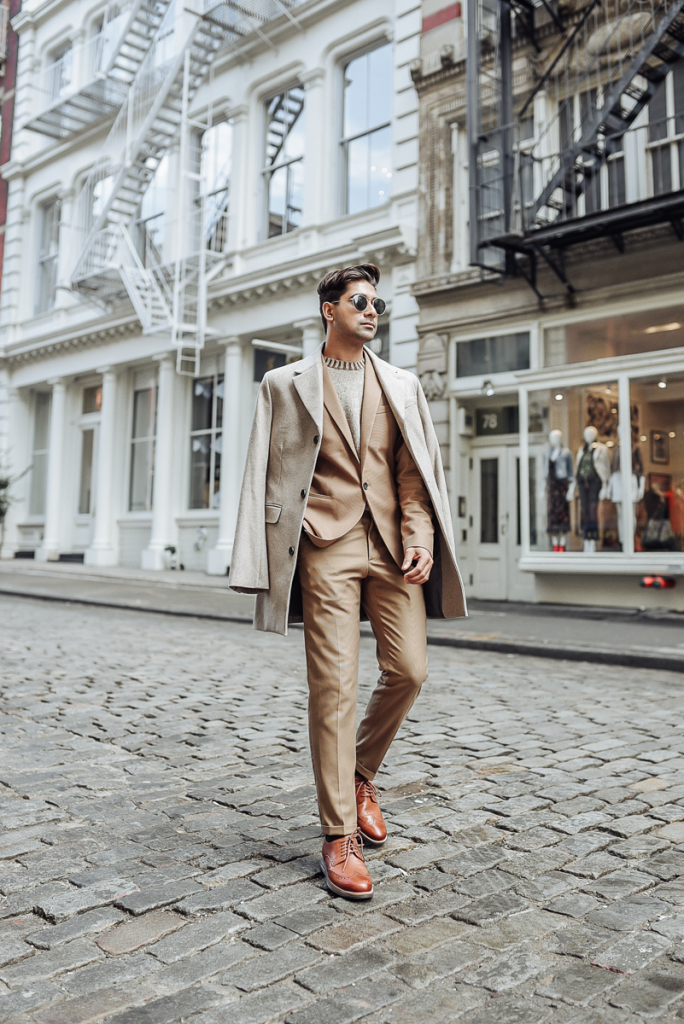 Tonal layering or the monochromatic look, is a timeless classic that looks very elegant when done right. The best thing about this look is the variety of items that can be used to construct it. For this reason, it is easily achievable and can allow you to be ultra comfortable while looking very put together. Here's what you need to know in order to get the look right;
The first tip to achieve the look is to stick with classic colours and shades. You can, if you desire, have a turquoise monochromatic look, but it is more likely to be eclectic, rather than elegant. Therefore, tonal layering is at its best when done in very dark jewel tones or earth tones—for example, using dark emerald shades, or beige and caramel shades.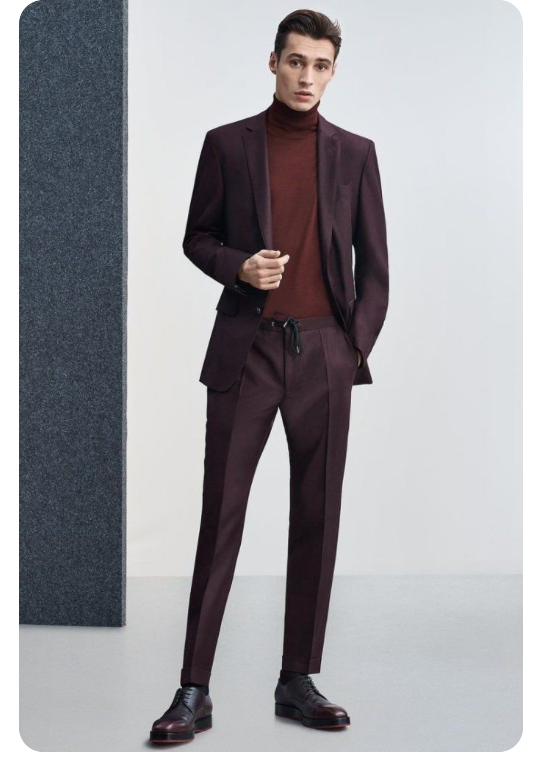 The second thing you must understand in order to get the look right is tones. In other words, for every colour out there, there are cool toned iterations and warm toned iterations of it, to varying degrees. For instance, although they are both green, there is a big difference between an olive green and a forest green; olive green is a green in which there is more yellow (warm) and a forest green is a green in which there is more blue (cold). Although this might seem a bit tricky to grasp for some, most people would agree that an olive green and a forest green paired together look off somehow, and that's the general gist.
An example of a well achieved tonal layering outfit could look something like a chocolate coloured suit, paired with a burnt caramel coloured turtleneck, and a very dark brown Chelsea boot. Even though you are staying within the same colour and tonal range, there are truly endless possibilities with this look and you can have a lot of fun creating monochromatic outfits. So, whether you're out and about in the cold, in a work meeting, or unwrapping gifts with your family, you're sure to stay warm and comfortable while looking great.
Earth Tones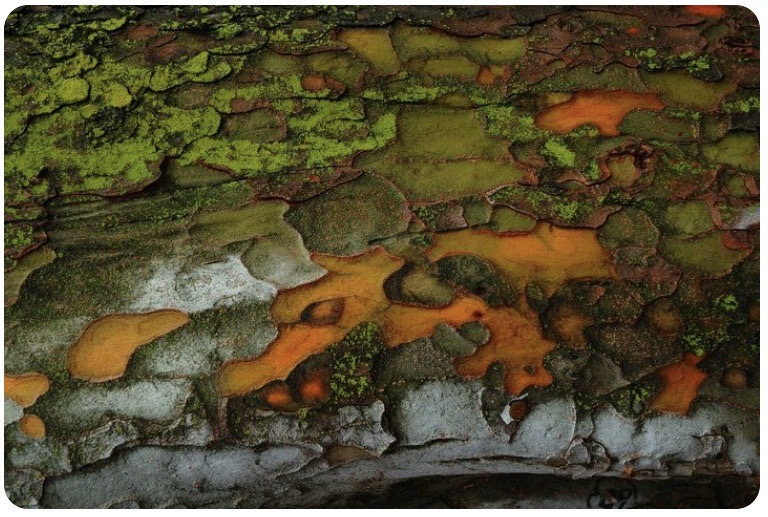 Another timeless trend that's all the rage this Holiday season is earth tones. For those who might be somewhat confused as to what can be qualified as an earth tone, it is essentially any colour that can be found in nature, such as forest green, mushroom brown, charcoal grey, ochre yellow, hyacinth, terracotta, etc. What's great about these types of colours is that a lot of them pair nicely together, so with multiple earth toned items of clothing, it is easy to create many different outfits. Go for deep shades of those colours if you like a richer colour palette, and opt for desaturated ones if you prefer a more neutral palette.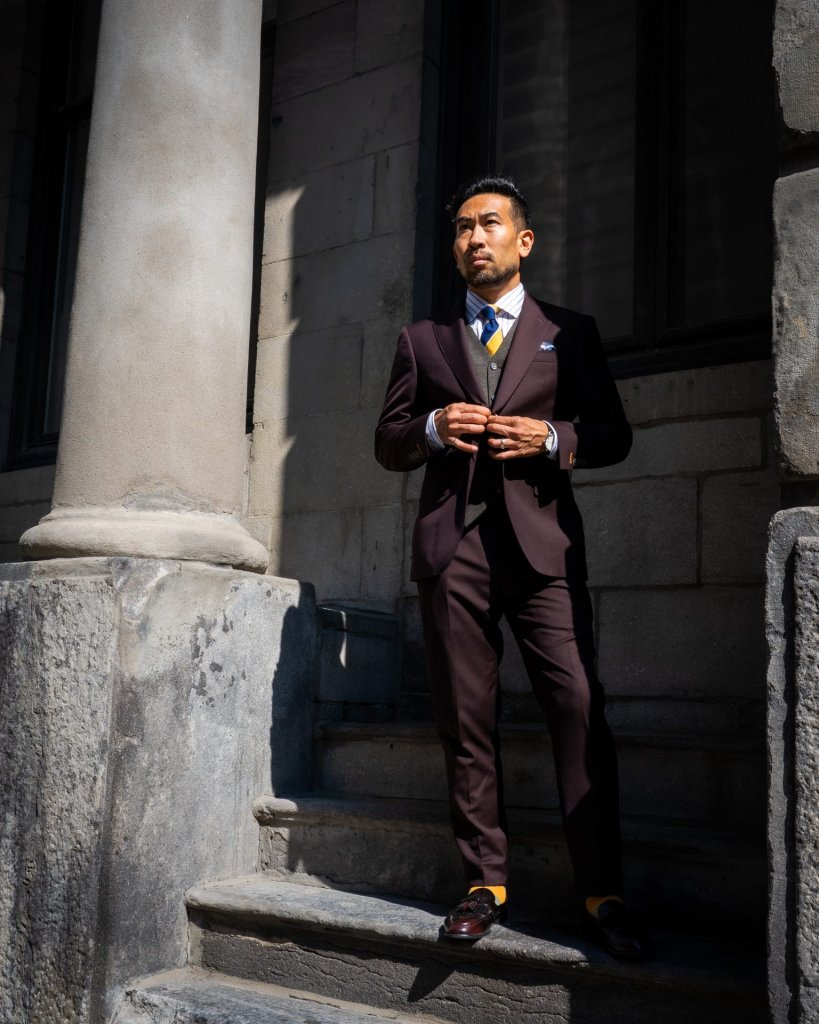 Pinstripes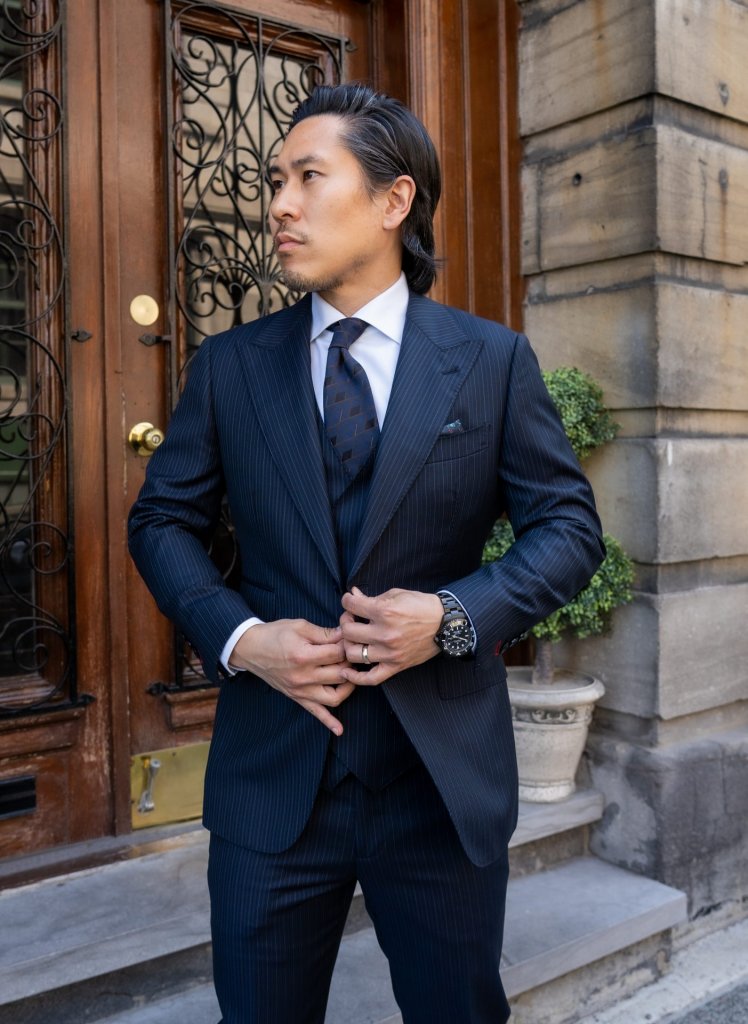 Pinstripes never truly go out of style, but they are particularly popular this Holiday season, so if you haven't yet invested, consider doing so this year. First rising in prominence during the Jazz Age and Gilded Age before it, pinstripe suits have always had a touch of glamour, decadence, and mystery about them. Although they are a typically regarded as formal pieces, they can be just as playful as they are elegant—the key is in knowing how style them.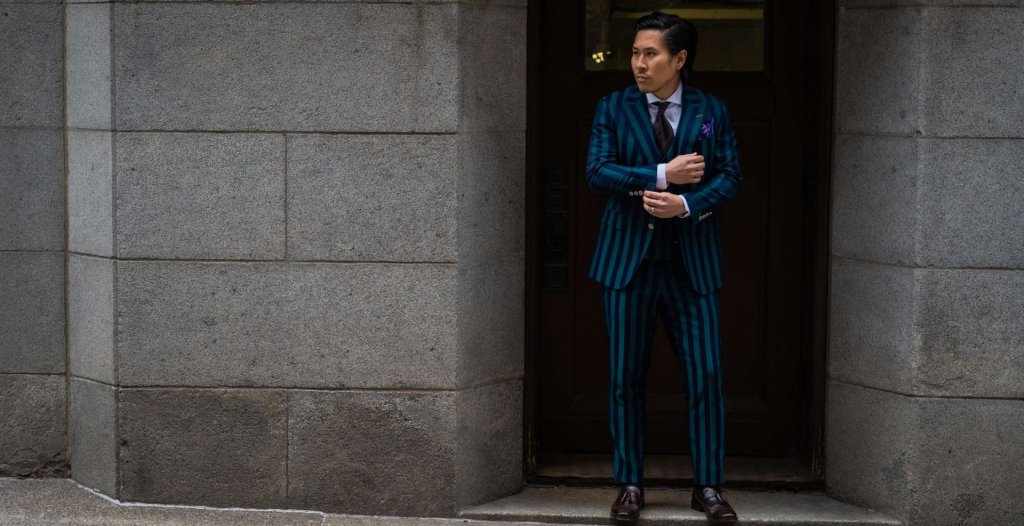 If you want to go the ultra formal route, then you will have no trouble doing so in a pinstripe suit, especially in classic colours such as blue, navy, black, as well as grey; and, to go the extra formal mile, make it a three piece pinstripe suit. If you want a bolder, more playful look, opt for thicker stripes and or vibrant colours, such as dark green or red, and don't be afraid of wide lapels. If you want a more laidback look, then more textured fabrics or earth tones, such as brown or khaki, are ideal. Worthy of note is that pinstripes look great paired with a turtleneck. A luscious burgundy pinstripe with a black turtleneck could be a great look at a Holiday lunch meeting.
Checkered Prints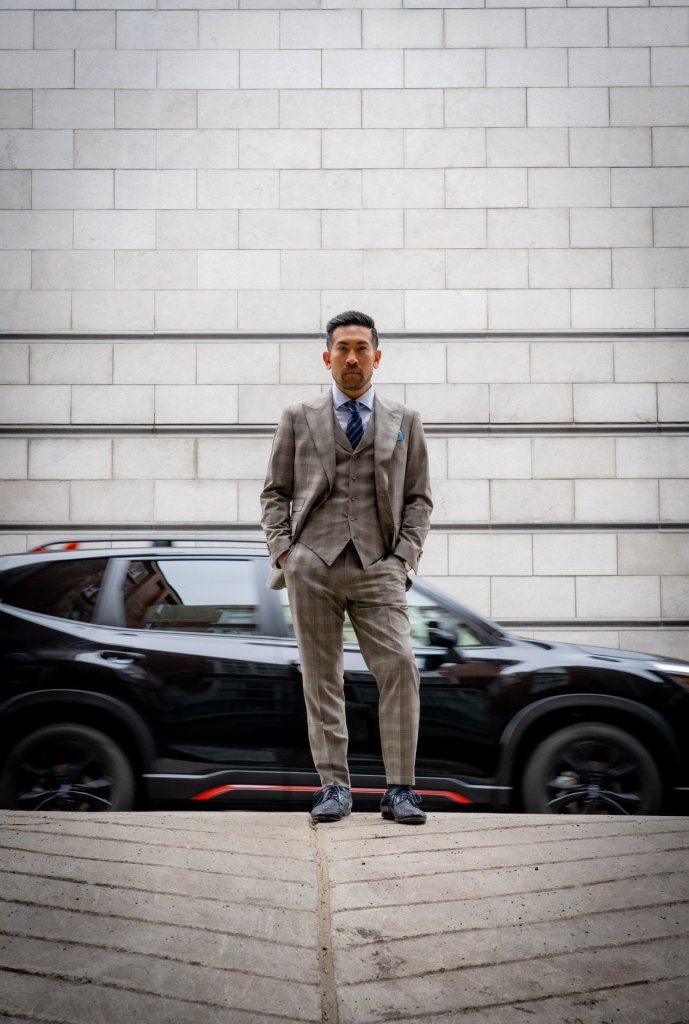 The checkered pattern is a classic print that has erupted everywhere on the runway in 2020-2021. Whether it be a subtle gingham or a bold black and white chest board print, it has established itself as a quintessential turn of the decade look. It's here to stay this Holiday season, and almost guaranteed to overstay its welcome, so get some checkered prints in your wardrobe.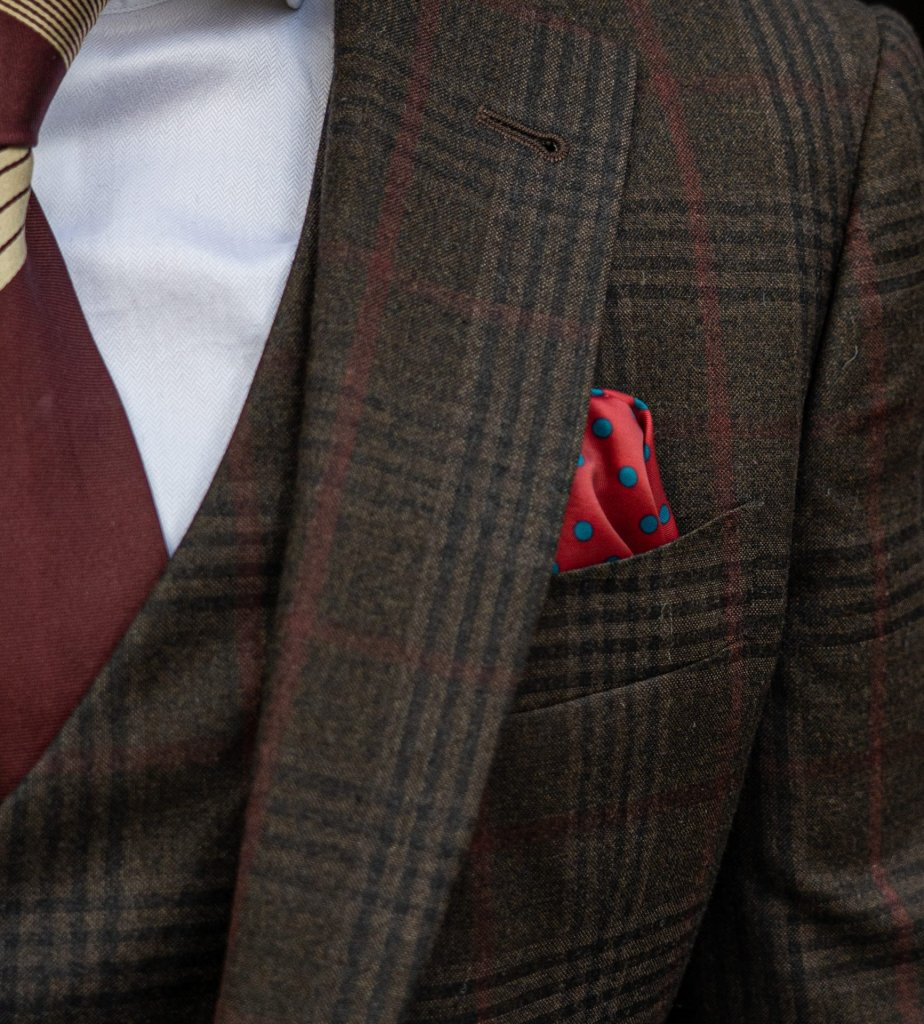 An advantage of check prints is that there are many, many different kinds, so you're sure to find one you like. If you like a simplistic or subtle checkered, a pin check, grid check, black watch check, or window pane check might be great for you, especially if its discrete—an embossing in the fabric weave, for instance. For those who like classics, go for a plaid, a gingham, a shepherd check, or a buffalo check. If you enjoy a loud print, a tartan, madras, or glen check might be ideal for you. And, if you're not at ease going all out with a full checkered suit, a checkered vest, shirt or pants are a great way to incorporate the pattern in your outfits.
Velvet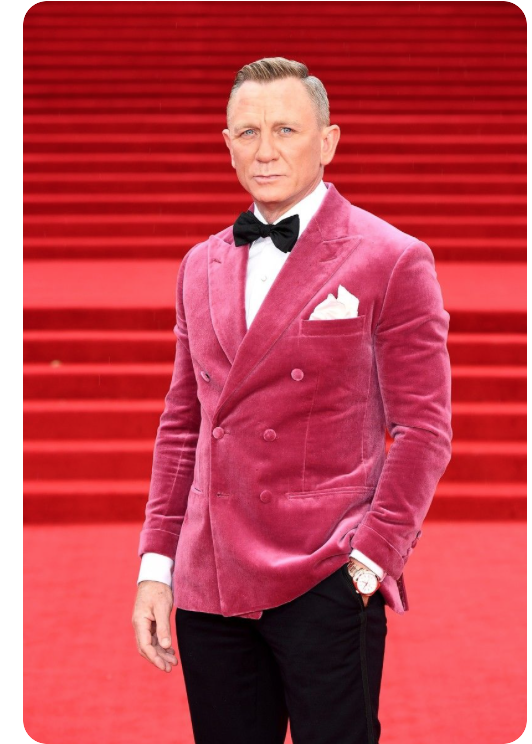 Velvet was all the rage in 90s, and here it is again in full force, just in time for the Holidays—and who doesn't like the feel of velvet? Not only does it feel luxurious, it looks like it too. We're glad it's back and highly encourage you to get some velvet in your closet. A popular way of wearing velvet is to sport a jacket, as illustrated by the multitude of velvet jackets and tuxes worn on the red carpet and runway as of late.
If you're a bold individual, you might also consider making that a double-breasted jacket, because if you're gonna go for it, you might as well go all out. One thing we would highly advise against is wearing velvet pants, as it can ruin the look and start to look pyjama-esque. In addition, being a of thicker material, velvet pants might make your legs look bloated so to speak. Luckily, it has an inverse effect when worn as a jacket, as it might just make your frame a tad more imposing, which is always flattering.
Double Breasted Jacket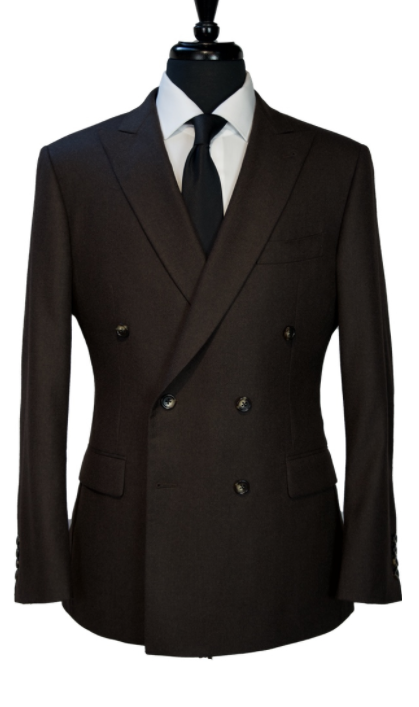 Another 90s trend making a come back this Holiday season is the double breasted jacket. They're somewhat of a statement piece, no doubt, and for this reason double breasted jackets are often associated with a bolder aesthetic. Nevertheless, there are ways of making it fit your style, no matter what it is.
If you like a more laidback look and you happen to be tall and on the trimmer side, consider opting for an oversized fit, as it will counterbalance the double breasted jacket's typically firm structure. If you're on the shorter or wider side, stick to shorter jacket lengths, and pick an earth toned coloured jacket, as it will give it a more relaxed look.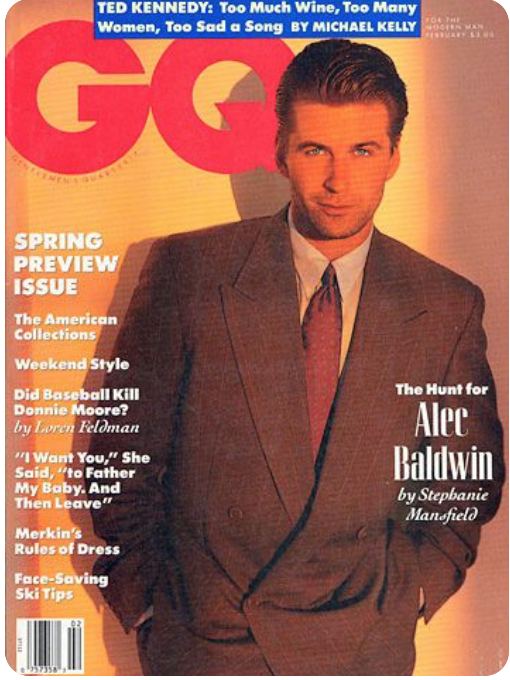 On the other hand, if you want to fully embrace the boldness of the double breasted jacket, go for a classic tailored fit. A pinstriped double breasted jacket is sure to steal the show, and if you're ready to take it to the next level, go for a colourful pinstriped suit. If that's still not enough, a Ferrari red double breasted jacket is sure to do the trick.
Pleated Pants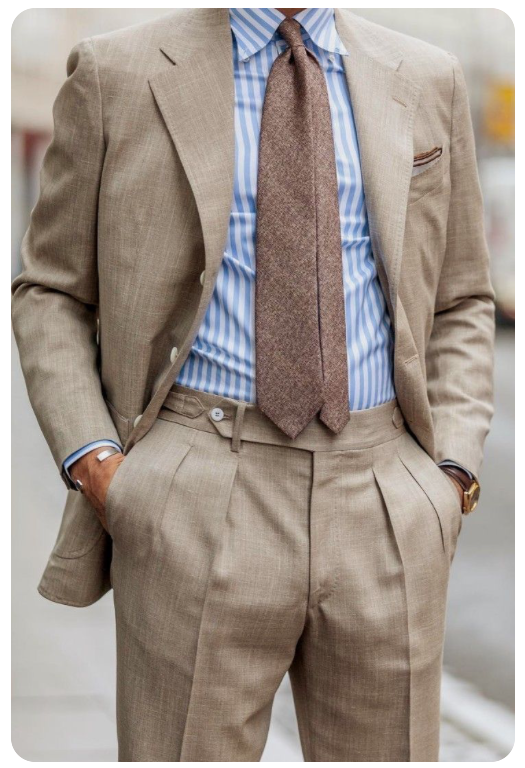 Pleats are in as of fall 2021 and are still going strong for the Holidays. They went out of fashion for a while, but we couldn't be happier to see them make a comeback. They are quite stylish and offer a welcomed alternative to flat fronted pants that are unforgiving to any visible belly or bloat. Indeed, the great thing about pleated pants is that they are flattering on all shapes and sizes. If you're on the thicker side, pleats do a great job of camouflaging any imperfection at the waist, hips, and thighs, and provide you with an overall leaner appearance. They also elongate the leg, which gives everyone a more proportionate looking body and a more flattering silhouette. You can also opt for a high rise pleated pant, as a high rise is also in fashion and will give you a taller appearance as well.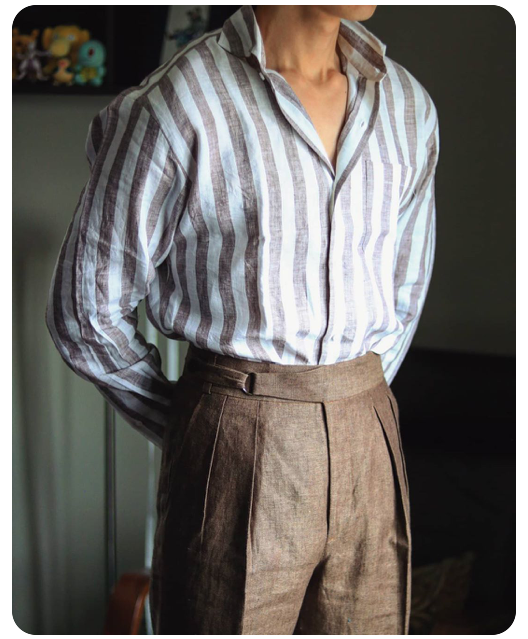 Another great feature of pleated pants is flexibility. Pleats are essentially achieved by making gathers in the fabric, and the side effect of this is extra folded fabric and therefore extra hidden room. For this reason, unless it is considerably too small for you, you will never be squeezed by a pair of pleated pants; instead, you will be able to have a decent size lunch without feeling compressed, and sit down comfortably at your desk. Not to mention, extra room means extra space to move, so you will be able to lift you leg up with relative ease and walk about briskly.
In addition, more work has gone into making them compared to flat fronted pants, which gives them a thought out flair and in turn evokes a more elegant style. Pair a black or white t-shirt or turtleneck with a pair of pleated pants to elevate an otherwise basic look, or swap your flat fronted suit pants for pleated ones to jazz up your businesswear.
Colourful Coats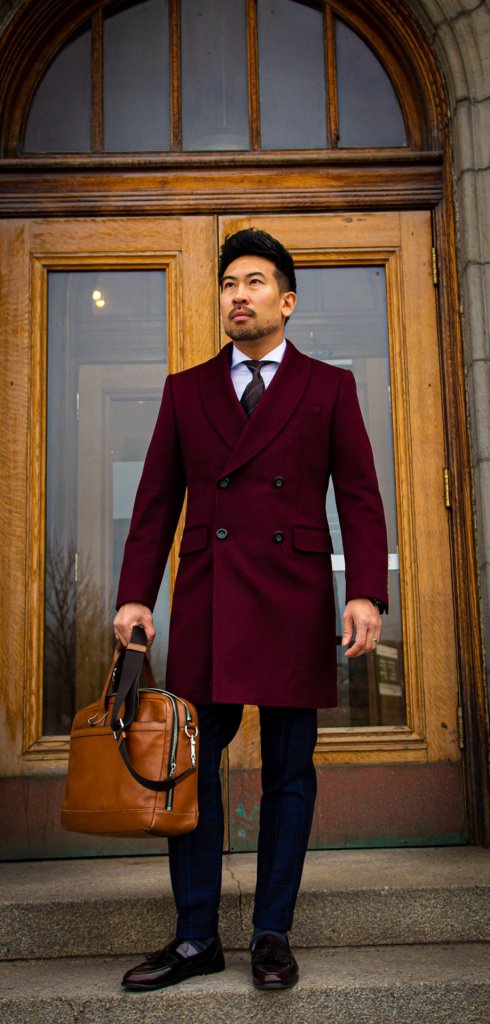 If you live in a country that isn't blessed with an eternal summer, you'll need to layer up in the colder months. This Holiday season, it's time to lather on the rainbow because colourful coat are in fashion; and frankly, what better way to add colour back into our lives than bundling ourselves up with it. That said, pick a colour, pick a style, and go show the cold who's boss.
If you're very active and don't mind rolling around in the snow, a cobalt blue puffer coat or shell might be what you need. If you rather keep away from the bitting cold wind, an emerald green parka could do the trick. And if you want to look regal while you walk from your vehicle to the door of any heated indoor space, a thick burnt orange car coat could be the ideal layer for you.
Ties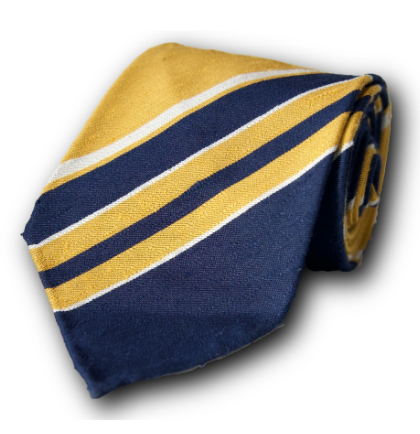 Ties have never truly gone out of style, nor are they likely to anytime soon. However, the trend seems to have them be more than just the finishing touch of a suit, but instead be the focal point of an outfit. Bold stripes and—surprise surprise—velvet are in this Holiday season. Pick a velvet tie to go with your velvet jacket, or pick a bold striped tie to go with your textured suit; and, most of all, enjoy the festivities!